Digital revolution and open data in maritime business and governance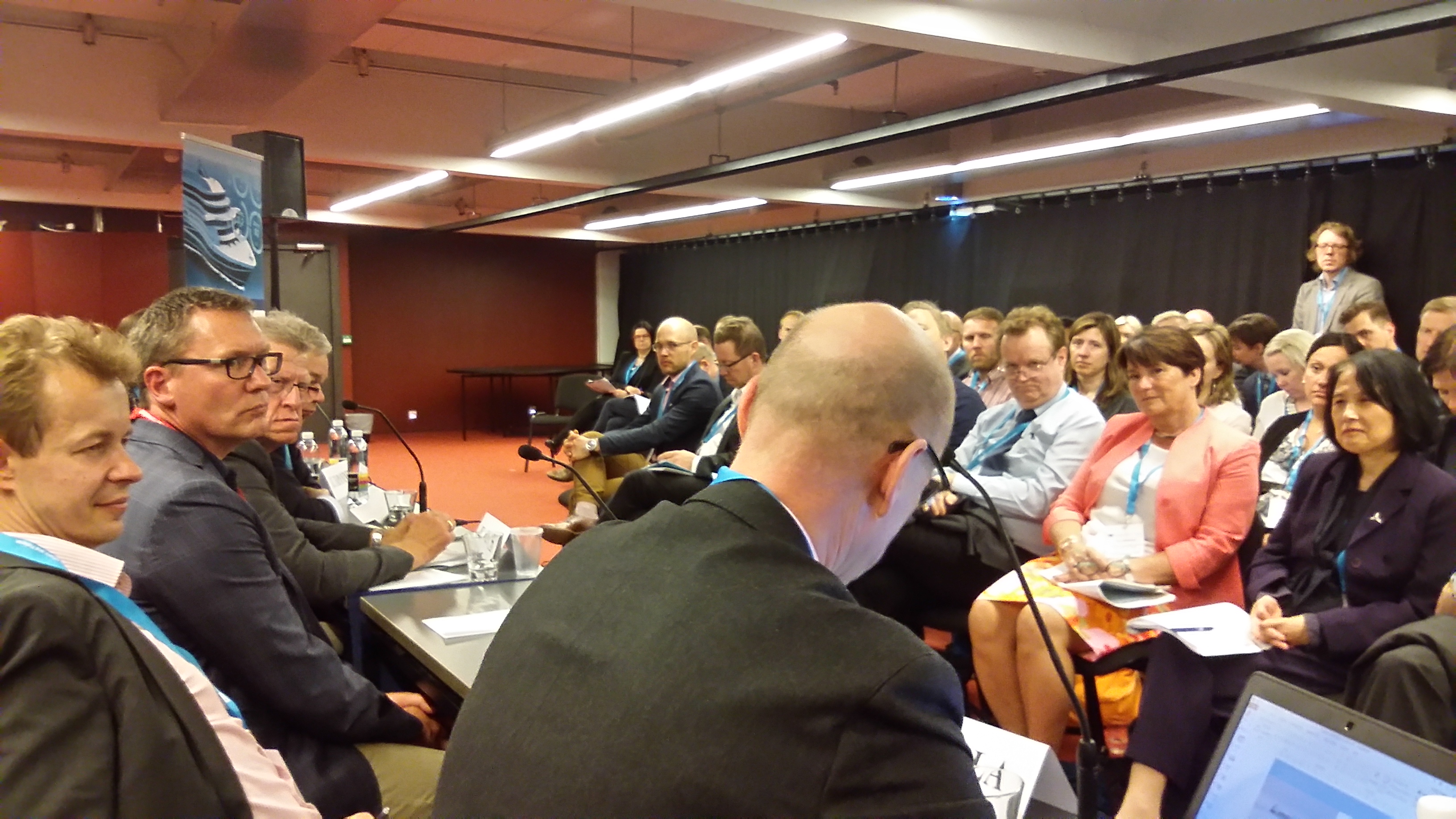 As part of European Maritime Day 18th May in Turku City of Helsinki and Finnish Meteorological institute organized a workshop discussing maritime digital revolution and open data. The basic understanding behind the workshop was that digitalization means taking advantage of the big maritime data. The workshop focused on sources of open ocean data, opportunities and challenges of maritime digitalization and sharing how the open data have been utilized in maritime service sector and industry. The workshop was a jointly organized by the MERIT project of the City of Helsinki and SmartSea project of Strategic Research Council of the Academy of Finland.
The workshop gathered full room of attendants. As a starters, the five panelists, covering expertize from environmental monitoring to maritime business gave short comments of on maritime digitalization and open data policy. This followed by an active discussion by the panelist and the attendants.
The workshop noticed different policies of European countries regarding in provision environmental and other marine data freely.  It was widely agreed that open data policy is generating new business opportunities, but some data collected by the authorities should be freely available for a classified users only. In general, research institutes and other public agencies were considered to have a pivotal role in boosting new business opportunities by providing access to their data holdings as well as requesting companies to share their data too.
The workshop discussed also on development of downstream applications. It was noted that for a large community of users and service providers would create a competitive markets where best and most user friendly applications are naturally developed.
The panelist were Director Martin Isaeus, AquaBiota, Chair of EuroGOOS Erok Buch,  Director Pekka Pokela, Gaia Oy,  Business development director Mikko Patrakka, Ixonos Oyj and  Head of Group Marketing Steffan Herlin, Sales and Customer Service, Finnlines – A Grimaldi Group company. The moderators were PhD, Docent Ulla Tapaninen, City of Helsinki and Research Professor Jari Haapala, Finnish Meteorological Institute.
Ulla Tapaninen, City of Helsinki, MERIT-project
http://www.hel.fi/www/Helsinki/en/administration/enterprises/competitive/development-activities-+projects/The+Merit+Project/
Jari Haapala, Finnish Meteorological Institute, SmartSea –project
https://smartsea.fmi.fi/
---
You can join the SmartSea Seminar "Future of Gulf of Bothnia" even if you are not coming to Vaasa! The
All news >